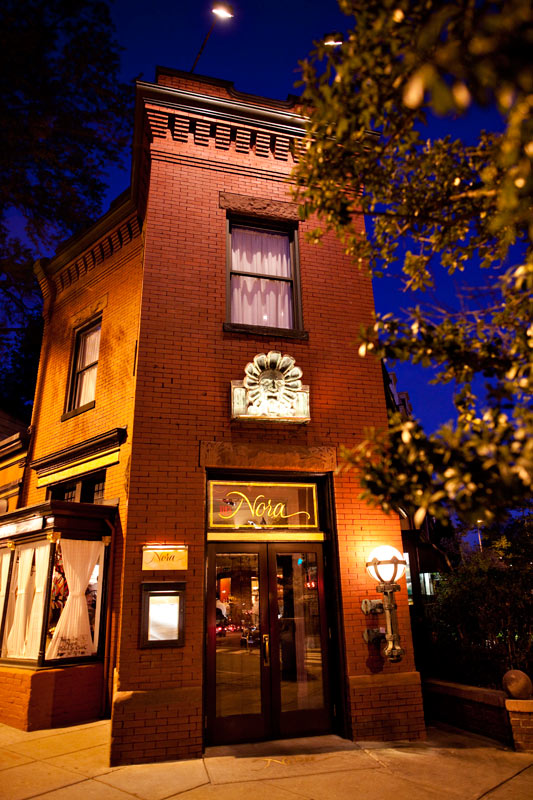 Friends in the Northern Virginia / D.C. area, and visitors to our nation's capital, I've got a fantastic restaurant recommendation for you.  Especially for you Real Foodies out there.
Restaurant Nora claims to be America's "first certified organic restaurant," which means that at least 95% of all ingredients must come from certified organic farmers & producers who do not use synthetic fertilizers, pesticides, antibiotics, hormones or GMOs.
How cool is that?
The menu changes daily, offering a la carte items and a four-course chef's tasting menu. The wine list presents over 100 exceptional wines from small producers, many of them using organically grown grapes and sustainable practices. 
Owner Nora Pouillon boasts quite a resume as an advocate of Real Food.  The restaurant's website describes her as "a pioneer and champion of organic, environmentally conscious cuisine."  Born in Vienna, Austria, Nora was "shocked to discover the processed, chemical-laden foods Americans were eating, which she realized contributed to their health problems. That's when she embarked on her crusade to promote a healthier lifestyle."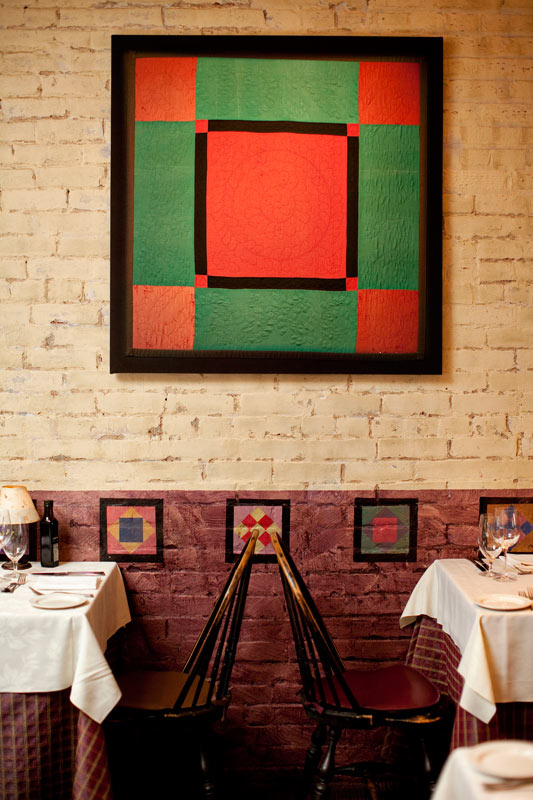 Personally, I was delighted to note Nora's affinity for Pennsylvania farm country.
Lancaster, PA–my hometown!–is just two hours north of Northern Virginia, and Nora has developed solid relationships with various farmers from the area–many of them Amish.  All five dining rooms at Restaurant Nora are decorated with antique Mennonite and Amish crib quilts, velvet crazy quilts, as well as architectural artifacts.
I guess you could say that Restaurant Nora felt a bit like home. 🙂
As you might imagine, procuring and providing certified organic food is not an inexpensive endeavor.  The prices on the menu at Restaurant Nora definitely fall in the "special occasion" category, at least for us.  Mr. Native Texan and I visited Restaurant Nora in honor of our recent anniversary (ten years!), and we weren't disappointed.
We both enjoyed a seasonal green salad, noting with amusement that one of that evening's salad options included Chicory. (With the boys, we'd been learning about this common wildflower and noticing its beautiful blooms all over Northern Virginia.)
Mr. Native Texan also enjoyed a ribeye steak and broccoli.  I ordered the salmon, with rice and a green sauce.  Everything was delicious!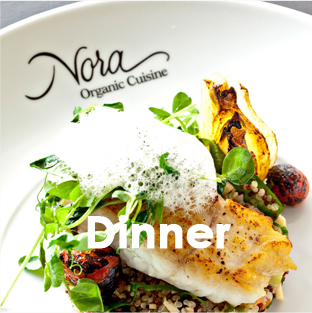 As a side note, we find it both endlessly amusing and frustrating that although rice itself is gluten-free, it's actually quite difficult to order "gluten-free rice" from a restaurant menu.  Most methods of preparation apparently involve seasonings or broth containing gluten, which often prohibits us from enjoying rice with our restaurant meals.  So it was delightful to eat gluten-free rice with my salmon, at a restaurant.
Since it was our anniversary and all, we decided to throw caution to the wind and order the fresh, organic peaches with vanilla ice cream.  It was delicious, but definitely not sugar or dairy-free!
Even the tea and coffee came beautifully prepared and presented–a fantastic way to end our certified organic experience at Restaurant Nora.
The Details
Restaurant Nora is located north of Dupont Circle at the intersection of Florida and R Streets NW.
Address: 2132 Florida Avenue Northwest / Washington, DC 20008
Phone: 202-462-5143
Valet parking is available for $10 per vehicle.,
The Dupont Circle Metro station's Q Street north exit is just three blocks from the restaurant.
Restaurant Nora is open for dinner only, Monday through Saturday, with the exception of private luncheons and Sunday openings by appointment.  Closed Sundays.
Reservations are recommended.
Visit Restaurant Nora online.
All photos courtesy of Restaurant Nora.